Taking a slight detour from our exploration of the Spanish and French Basque Country, we journeyed from the French Basque country to Rioja, Spain's nearby wine country. The first post in this series was on French Basque cuisine in Saint-Jean-de-Luz and the second one covered our exploration of Hondarribia, across the border into Spain; next we explored the French Basque countryside and Pamplona, halfway from there to Rioja.
As soon as we spotted the walled town of Laguardia, nestled upon a hill and surrounded by acres upon acres of well-manicured grape fields, I knew our trip would not get much better than this. Laguardia (no relation to the infamously horrible airport back home), is smack in the scenic center of the Rioja wine region.
The tall 15th century medieval walls, which look like they could still repel a Roman invasion, now serve mostly to keep cars from entering the town, forcing us to park and wheel in our luggage through the narrow cobblestone streets. The town of just 1,500 people appeared home entirely to wine lovers. At nearly every step on our zig-zag trek towards our hotel was a welcoming wine bar with an entrance seemingly carved out of the tall town walls. At last, we arrived at the quaint center of town, where a small open courtyard flanked our hotel, Los Parajes. A live band had gathered under the cantilevered set of archways over part of the courtyard, and we knew it was time to sample some of the award-winning Rioja wines, and maybe some food.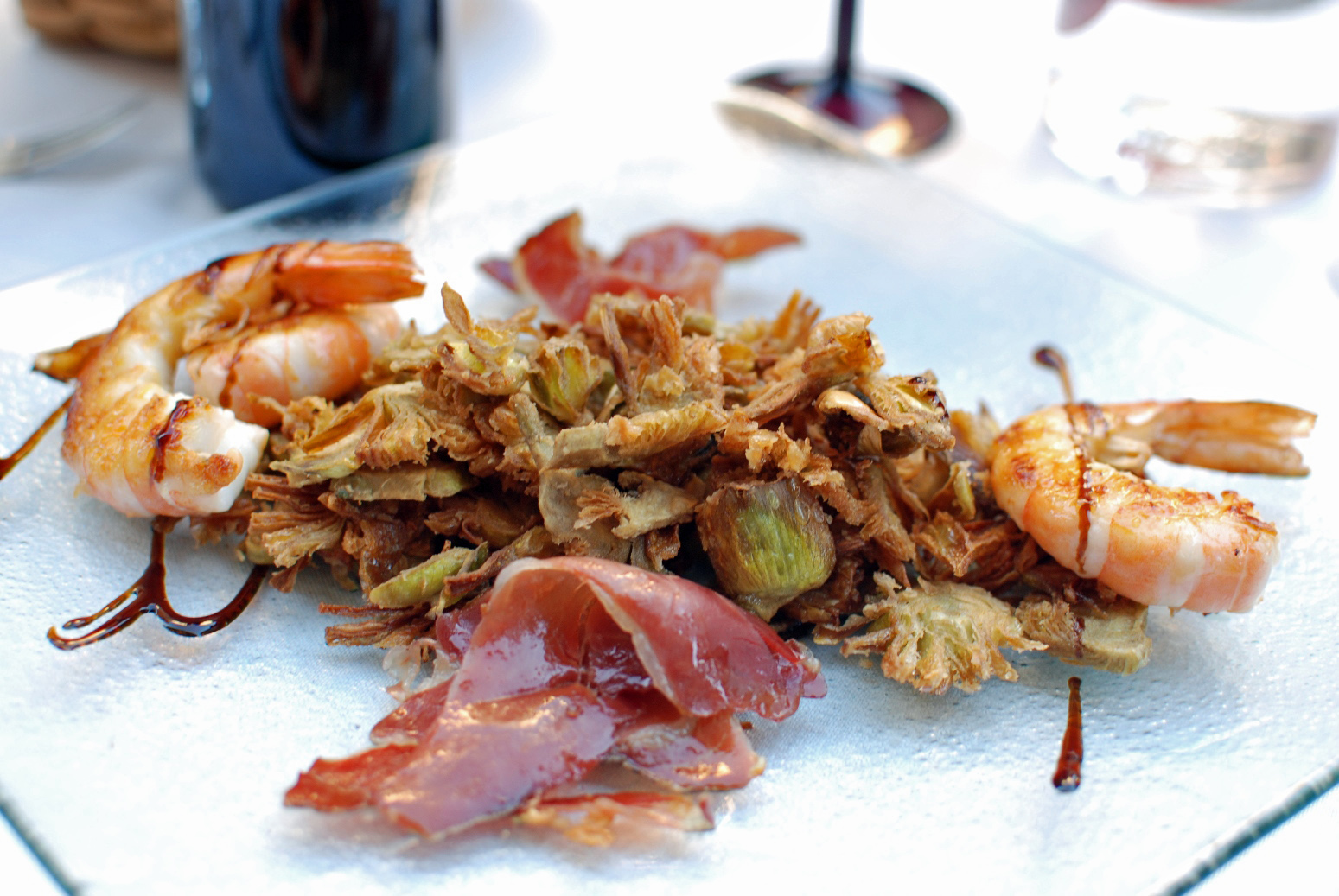 The Rioja region has all types of wines, but it is most known for its reds made from tempranillograpes. The aged crianzas were our favorite—with full bodied Bordeaux-style oak-aged flavor but without any heaviness.
Just like we saw in the Basque region, wine was not expensive. Even at our hotel, a choice 2008 crianza was under €20. After whetting our appetite with a few glasses of wine and pinchos at the hotel's underground wine bodega, we headed to an outdoor table to enjoy the live music.
Rioja cuisine is more international than it is just Spanish or Basque, and it pairs nicely with the wine. We started with a crujiente de alcachofas con langostinos plancha y jamón—superbly crispy artichokes with large plump grilled shrimp and ham and topped with a thickened balsamic glaze. It was almost like a collection of three tapas on one plate, tied together with the balsamic.
The Spanish love grilling and garlic aioli. Our next dish of chipirón plancha combined both of these flavors. Perfectly charred squid were strewn on top of crispy onions on a slate board. The bodies and tentacles were separated but were otherwise served whole. Generous, maybe even too generous, amounts of garlic aioli added a creaminess to the charred and crispy textures.
After several more glasses of crianza, our stomachs were then drawn to the chuletillas de cordero de leche—grilled baby lamb chops served with fries and roasted red peppers. We hadn't seen lamb at all in our entire trip through the Basque region, and we had heard they were known for it in Rioja. We were certainly not disappointed. The chops were somehow balanced on top of a fist of crispy fries and a smoky red pepper.
For dessert, we treated ourselves to a chocolate coulant with Bailey's ice cream. A molteny, delicious semi-sweet soufflé. The locals love their Bailey's ice cream. We probably saw just as much of that as we saw wine!
From there, we wandered around the narrow streets, ducking into various wine bars from time to time, until nightfall. We needed our sleep for a big day of… more wine!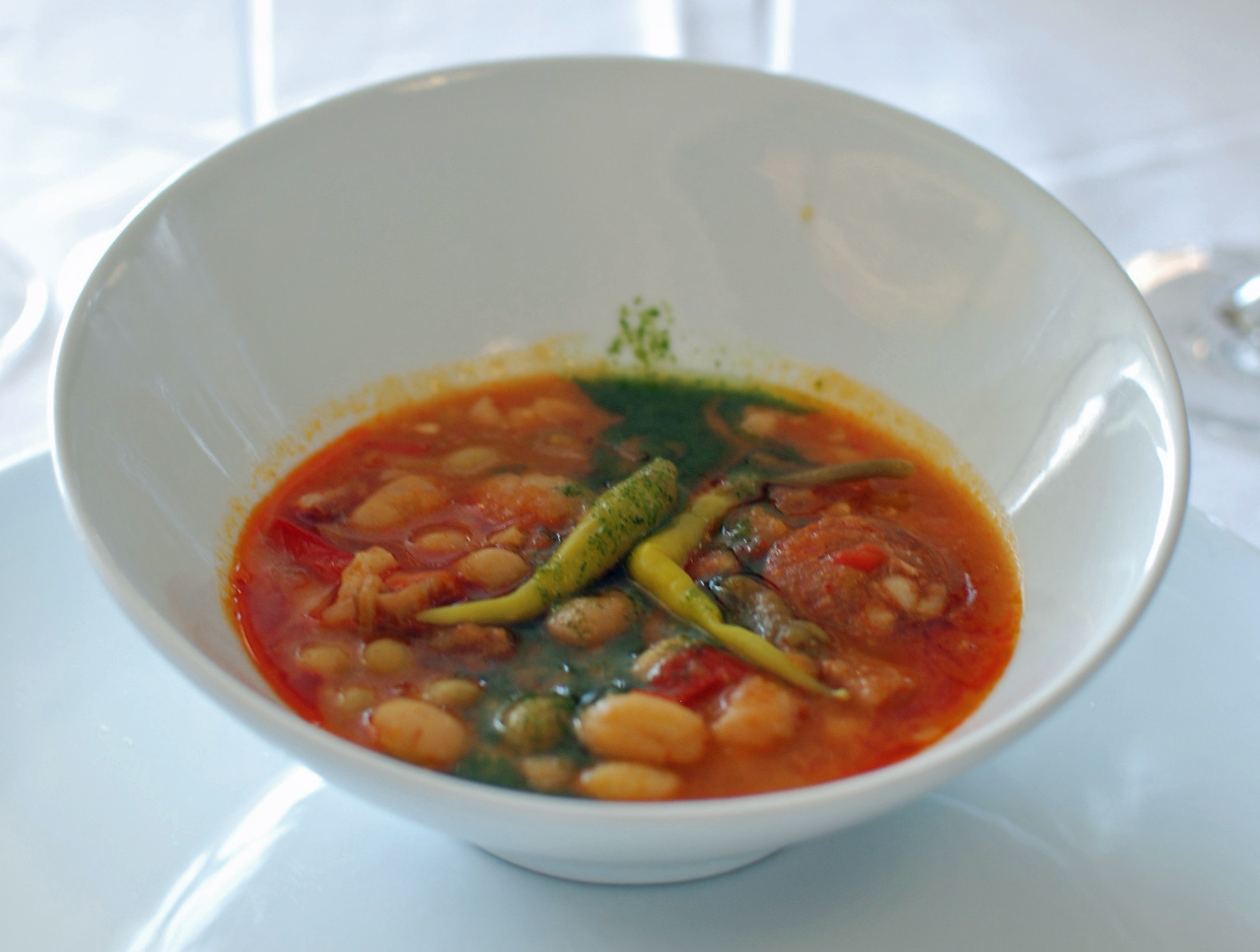 The next day we had reserved tours at several bodegas around the region. Bodega is a funny word for most New Yorkers, as we associate it with the corner store, but in Spain it refers to wineries, literally meaning cellar, as in where you store wine. The most impressive one we went to was the stunningly beautiful and modern Bodegas Baigorri. The multi-story glass and steel structure was built into the hillside. Each floor had a different wine-making function, and our tour guide took pains to explain how the multi-leveled building allowed the pressing and fermentation tanks to use the power of gravity, without having to rely on pumps. They even had a staff member, nicknamed "pie grande," who pressed some of the grapes with his feet.
Our tour concluded, of course, with a wine lunch set in Baigorri's airy dining room, overlooking fields of grapes. The six-course course lunch also included generously-poured wine pairings, and I couldn't help yet again with feeling like it was a bargain, at €45.
The first course almost seemed New American—house-smoked salmon with crunchy crumbled fritos, salmon roe, and creamy aioli. Many smoked salmon dishes contain some combination of crunchy and creamy, such as the classic toast and crème fraîche combination. I really liked the addition of the fritos, which seem to have made an appearance on many restaurant dishes even back home.
This dish paired nicely with the Baigorri blanco, and I was surprised to like a Rioja white so much.
The next two dishes showcased brightly colored vegetables.
A vegetable "lasagna" with layers of roasted peppers, eggplant, squash, and tomatoes, on top of carrot and pea puree easily outshined the Rioja bean stew, despite the stew's choice addition of delicious spicy sausage. Still, I was glad to try the stew, as many of Spain's varied regions count bean-and-sausage stews as among their signature dishes.
We were then presented with the unusual combination of stewed wild mushrooms bursting out of a pastry "sandwich", alongside pimentón-dusted Idiazabal cheese, followed up by saucy pork jowl with a balsamic drizzle. This was served with the Baigorri crianza 2010, which has become one of my favorite wines. It didn't hurt that I brought back home two bottles.
For dessert, we had a creative and beautiful dessert of blackberry panna cotta, ice cream with more crunchy fritos, and two cubes of what can only be described as the best jello I have ever had.
We finished the meal fully satisfied and a bit tipsy. Before long, we had sobered up just enough to make our way to the next vineyard. But of all the bodegas we visited in Rioja, Baigorri was the clear frontrunner.
If you're planning a visit, also check out the very hospitable, very small, family-run Valserrano in Villabuena. Superb wine and ever better hospitality. No wine lunches, however.
As we learned the next day, Rioja isn't all bodega-hopping. It also has some of the best pinchos we encountered on our trip, in a city no one's ever heard of called Logroño.