Tulum, nestled in the Riviera Maya, about 75 miles south of Cancún, is known mostly for its pristine beaches, eco-friendly boutique hotels, and general low-key, relaxing vibe. The tranquil beach road boasts a dozen or more excellent restaurants, which make good use of the Yucatán's fresh seafood and plentiful fresh produce and herbs. Mexican flavors naturally abound.
That is why I was surprised to find that there are also two excellent, authentic, and creative Italian restaurants: Hemingway and Posada Margherita.
Hemingway is an intimate beachfront Italian restaurant, serving sophisticated dishes under candle light or in a few outdoor tables overlooking the breathtaking sea. There is no written menu, aside from one chalkboard of dishes when you walk in. Instead, the waiters – in serious Italian accents – explain the many dishes of the day: seafood risotto, Mediterranean grouper, and mussels and clams soute (when asked to describe the soute, our waiter replied "you know, a soute").
But the best dish by far was an amazing seafood pasta dish with a cornucopia of freshly steamed shellfish – Caribbean lobsters, mussels, clams, squid, and red snapper – on top of a heaping mound of house-made tagliatelle in a spicy tomato sauce. The seemingly simple yet sophisticated dish can be made for up to four people and comes out in a huge metal pan that fills the entire table.
The fantastic dish combined classic Italian technique with the fresh taste of the ocean, which was just a few yards away. For the two of us, that was all we ordered (along with a nice bottle of Italian wine, of course), and it was more than enough.
With the recent prevalence of extra large dishes in New York, it is a shame that I have yet to see this kind of dish prepared well here. Someone should change that.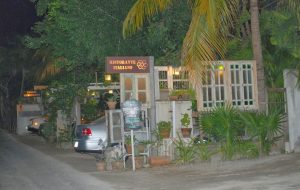 While Hemingway's had more of an upscale, intimate feel, down the read was the bustling Posada Margherita, a hotel and restaurant that had more of a family-friendly, neighborhood trattoria feel, with children at many tables.
The large, rambling space was completely candle lit, without any electric lights – creating an almost spooky feel. (The restaurant also claims that all the electricity they do use is from solar panels, in keeping with Tulum's eco-friendly feel).
The kitchen excels at turning out well-executed, simple Italian dishes.
Our meal started with a somewhat usual antipasto plate containing a variety of homemade focaccia (tomato, rosemary, and onion); roasted pistachios; excellent sharp provalone cheese; and raw cauliflower. The cauliflower was an odd choice, but everything else was excellent, especially the tomato focaccia.
Next, we really enjoyed the acqua pazza, a typical rustic Italian dish of olive oil poached fish. Here, fresh red snapper fillets were poached in wine, olive oil, and ample lemon, and topped with fresh tomatoes. It was served with an unnecessarily large assortment of starch accompaniments including roasted potatoes, toasted bread, and an almond and ginger infused rice. The delicate local snapper was the star and it reminded us why we love fresh simple Italian cooking.
The rice was also very good, though it had little connection to the fish. The potatoes were unneeded and ordinary. I can't say anything bad about toasted homemade bread, but it also didn't belong, especially after all that focaccia.
Homemade tagliatelle with shrimp and zucchini in an olive oil and garlic sauce also excelled in its simplicity. The pasta was perfectly cooked.
My only complaint was that the dish was served with a measly four shrimp, which made it's $20+ price tag a bit excessive.
But I was on vacation just a stone's throw from the ocean, so I didn't seem to mind.
Hemingway
Carretera Boca Paila km 5.5
Zona Costera, Tulum 77780, Mexico
http://www.hemingwaytulum.net/
Recommend dishes: Homemade shellfish tagliatelle (about 300 pesos per person)
Posada Margherita
Carretera Boca Paila km 4.5
Zona Costera, Tulum 77780, Mexico
http://www.posadamargherita.com/
Recommended dishes:
 acqua pazza (295 pesos), homemade tagliatelle (265 pesos)